"

This Sleeping pad and pillow are the perfect bundle that just fits,

the comfort and support

they provide are unmatched."

— @whereiskristen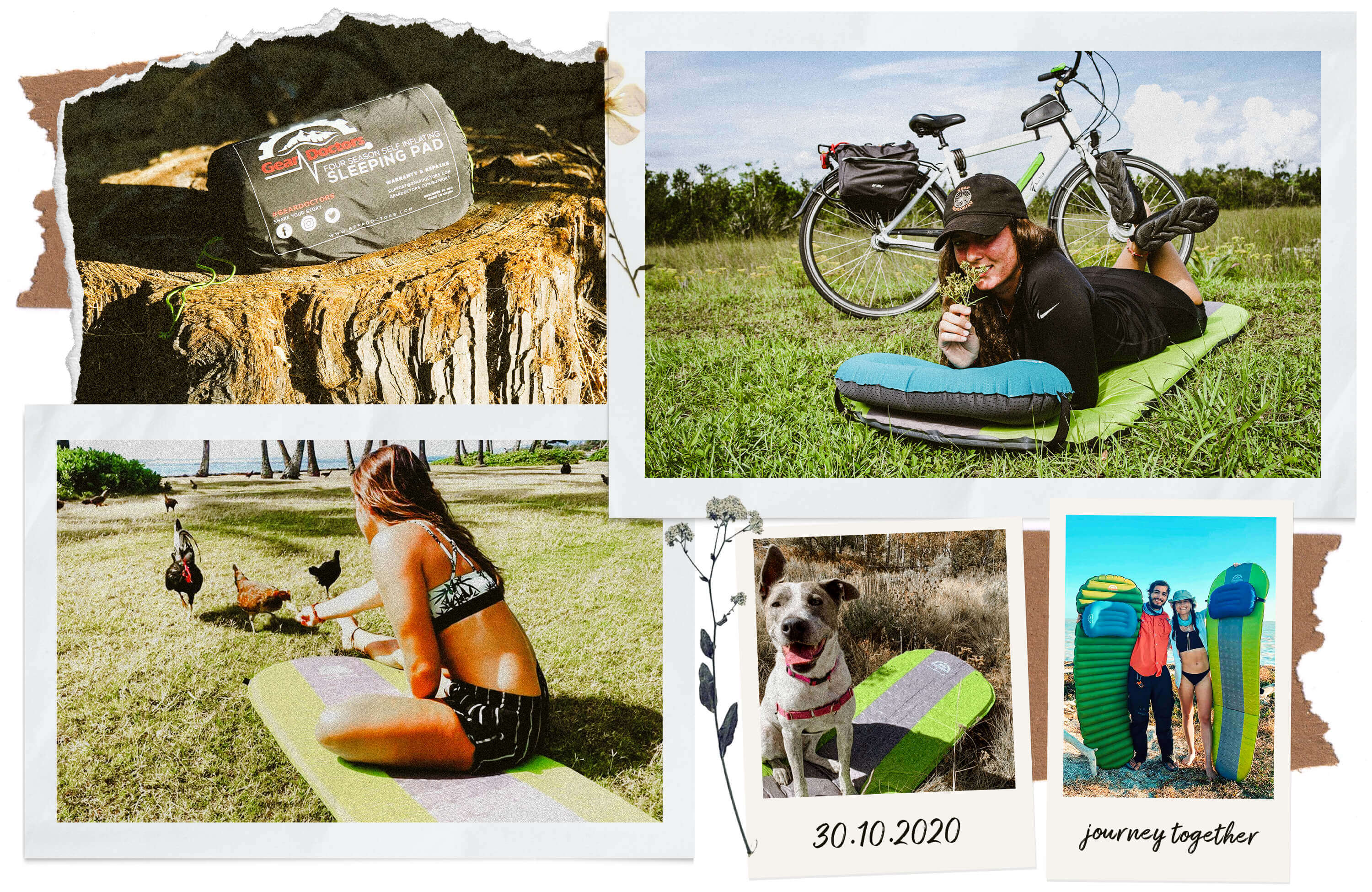 𝐄𝐚𝐬𝐲 𝐒𝐞𝐭𝐮𝐩 𝐀𝐧𝐝 𝐓𝐚𝐤𝐞𝐝𝐨𝐰𝐧
With Gear Doctors Self-Inflating Sleeping Pad all you need to do is, Unpack, Unlock, Unroll, Wait 3-4 Minutes, Add 2 extra puffs of air, and Seal!
-
Our pillow takes only 2 good breaths to set up,
The 4 Steps Anti-Leak Valve System,

 [Inflate > Adjust > Seal > Deflate] 
Hence the name I>A>S>D.
𝐂𝐨𝐦𝐟𝐨𝐫𝐭 𝐰𝐢𝐭𝐡

𝐂𝐨𝐦𝐩𝐚𝐜𝐭𝐧𝐞𝐬𝐬
The soda can-sized pillow p

acks small [2.4"×4.7"],
Unfolding to a [12"×17" wide]
With a Thickness of [4.3"]
Weighs only 3.5 oz!
-


The Pad measures

 nearly [12"×8"],
Weighing only 2.2 lbs,
Fully inflates to a hefty and comfortable [72"×22"×1.5"] sleeping pad.
𝐄𝐫𝐠𝐨𝐧𝐨𝐦𝐢𝐜 𝐃𝐞𝐬𝐢𝐠𝐧 𝐏𝐢𝐥𝐥𝐨𝐰 𝐖𝐢𝐭𝐡 𝐀 𝐖𝐢𝐝𝐞 𝐇𝐞𝐚𝐝 𝐒𝐩𝐚𝐜𝐞
Having your pillow bunch up in your face while you try to sleep is the worst.⠀⠀⠀⠀
Thankfully, our pillows come complete with a baffle system that offers support and guarantees comfort.
In short, the system evenly spreads out the air in the pillow to make sure it won't move around and create an uneven surface.
𝟒.𝟑 𝐑 𝐎𝐧𝐞 𝐏𝐚𝐝 – 𝐅𝐨𝐮𝐫 𝐒𝐞𝐚𝐬𝐨𝐧𝐬
[1.5"] thick with our Thermoinsulating Foam compound that gives the pad superior insulation to prevent the ground from sucking the heat out of your body in winter camping, while offering perfect cushioning for side, back, and stomach sleepers.
𝐋𝐢𝐟𝐞𝐭𝐢𝐦𝐞 𝐃𝐮𝐫𝐚𝐛𝐢𝐥𝐢𝐭𝐲
Manufactured with the latest high-performance materials and technology based on the highest industry quality standards,
We stand by our product's performance even in the most extreme weather conditions.


How confident are we of our product's ability to take whatever mother nature throws its way?


We'll back it up with 24/7 customer support for the life of the product!
Just reach out to us and we'll be sure to get back to you within 24 hours.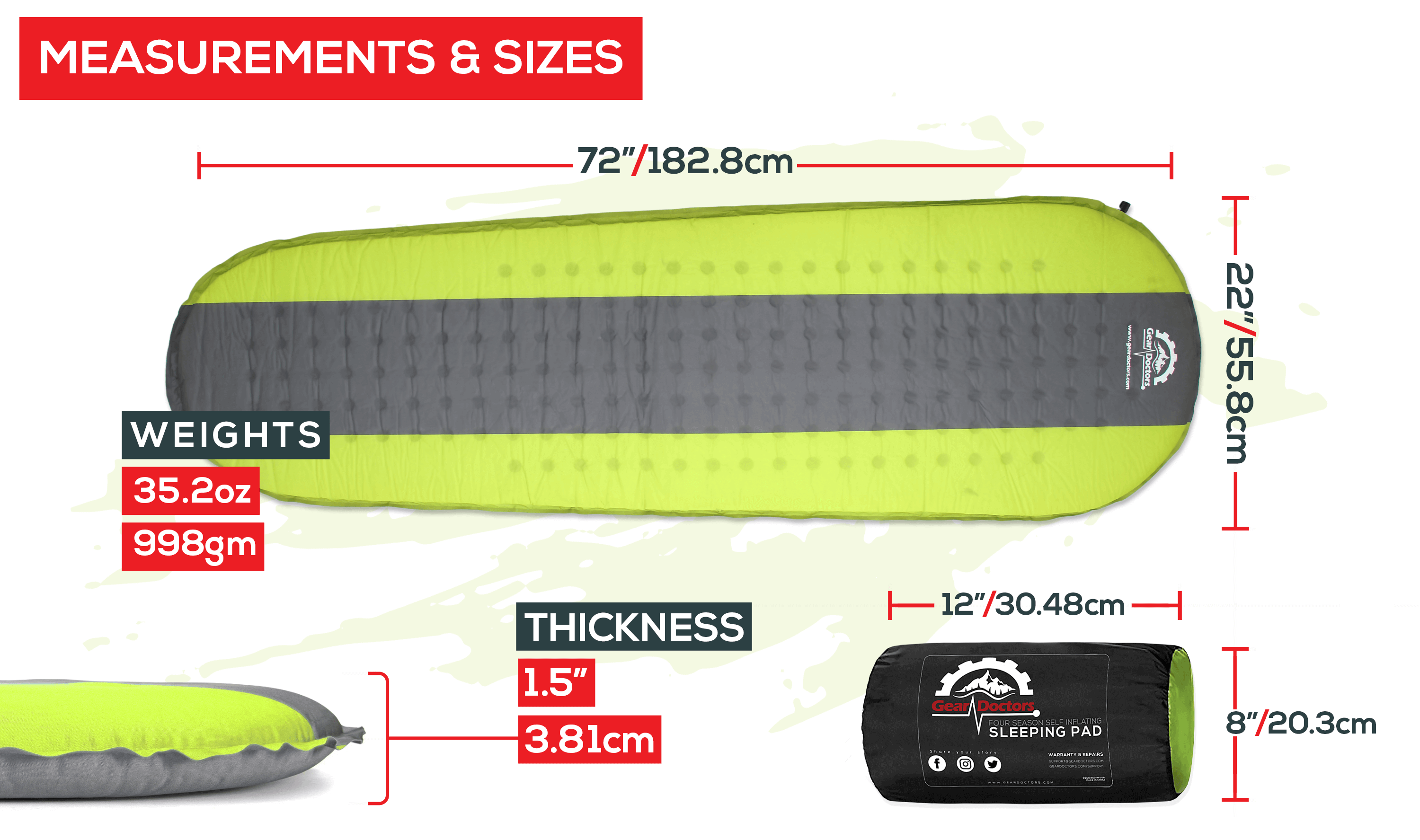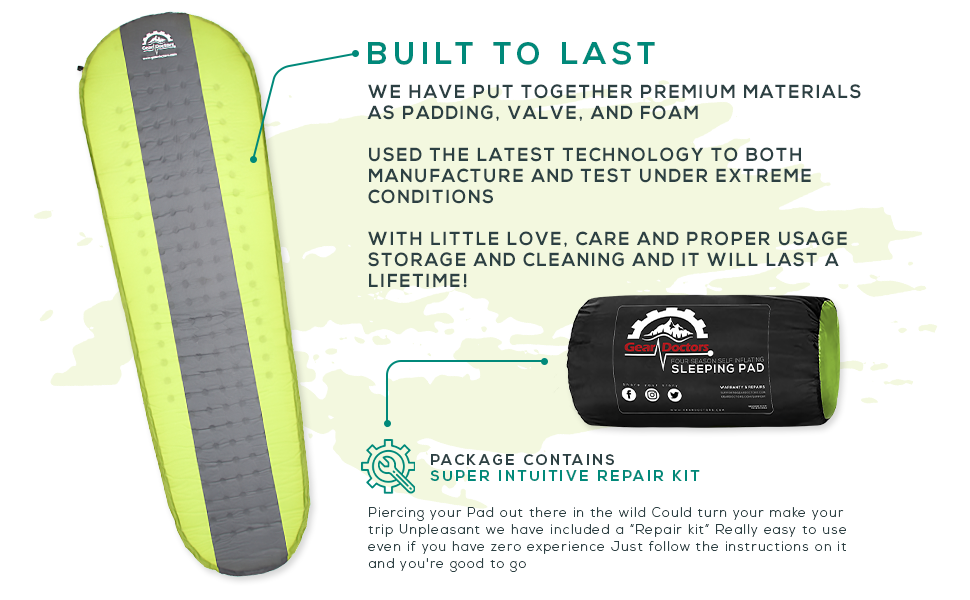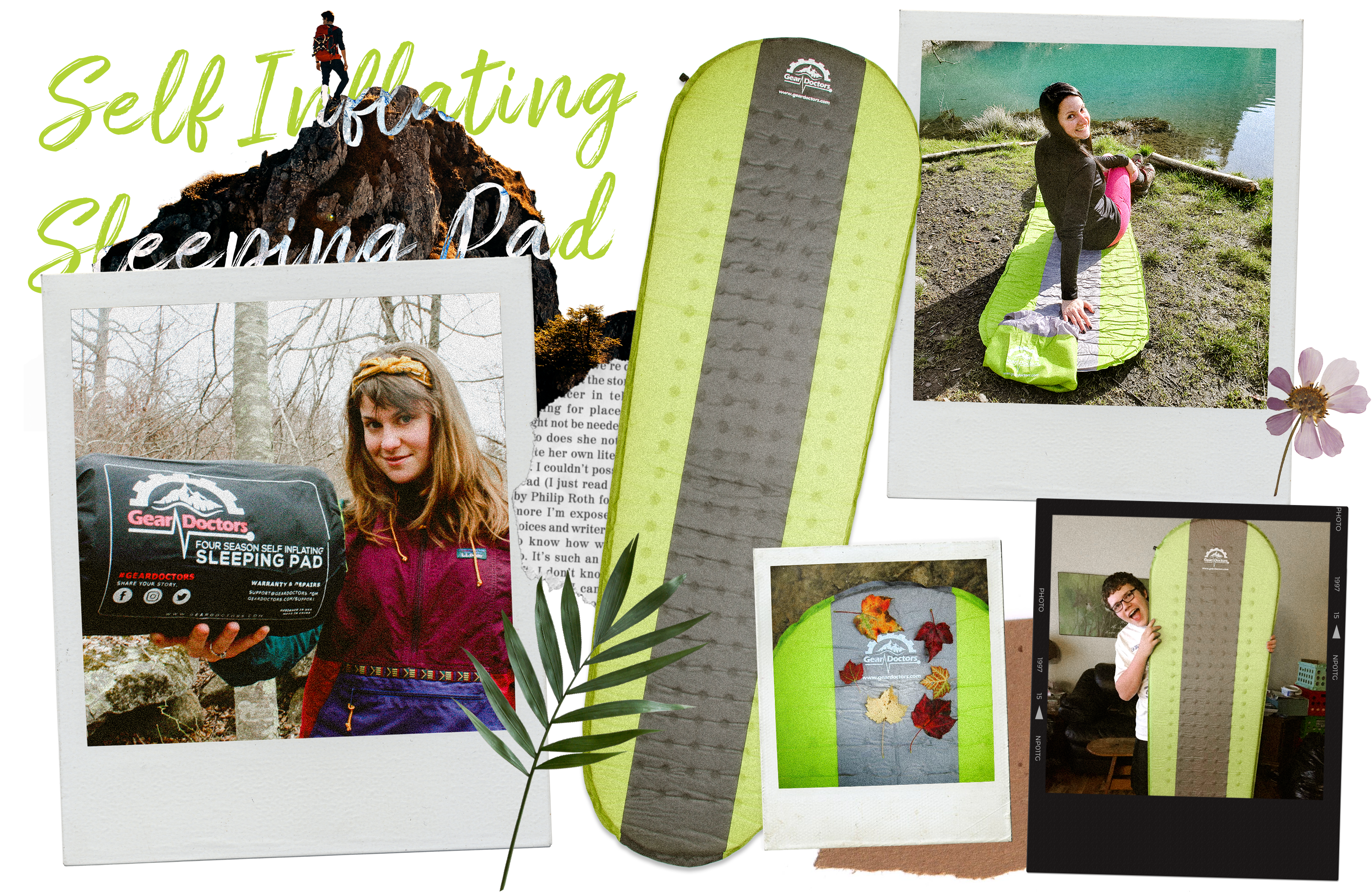 How to know the best camping pillow for you?
We all can agree upon that, the difference between an uncomfortable outdoors experience And an enjoyable outdoors adventure is a good night sleep
Choosing your camping pillow used to be puzzling, getting the right combination of size, design and materials takes a great deal of research,
But don't worry we've already done that for you!
Here's how you need your camping pillow to be:
• 
Easy to use and maintain
• 
Provides support to your head and neck
• 
Lightweight and compact
• 
Enough space for your head
• 
Doesn't make potato bag like noises
• 
Doesn't slide between your head and the sleeping pad
• 
Feels good on your skin
And that's exactly what we've built for you!
We've made a cloud-like camping pillow that does all of the above, fits into your pocket, and mimics the comfort of your own bed!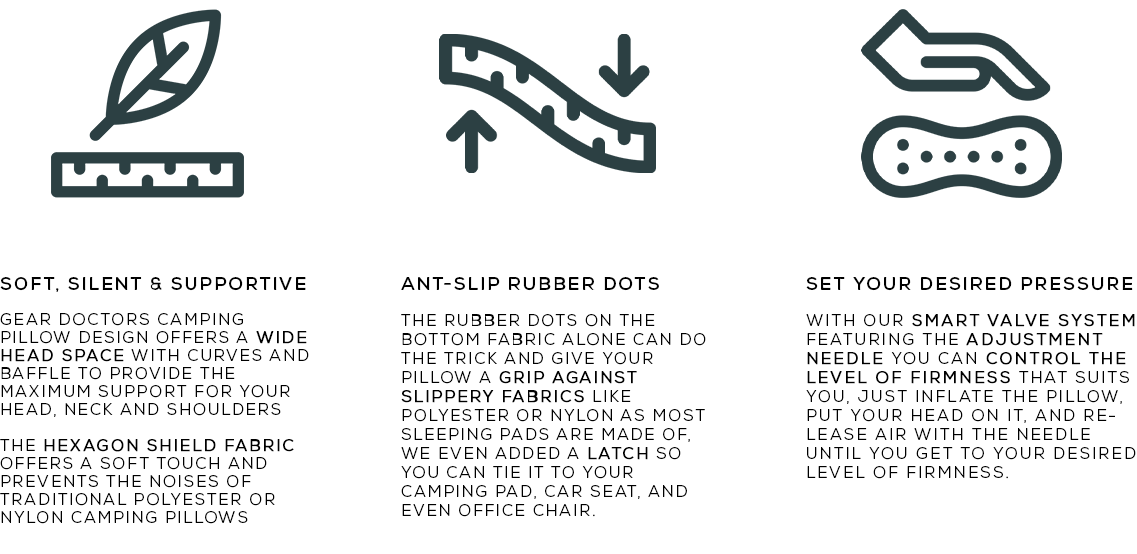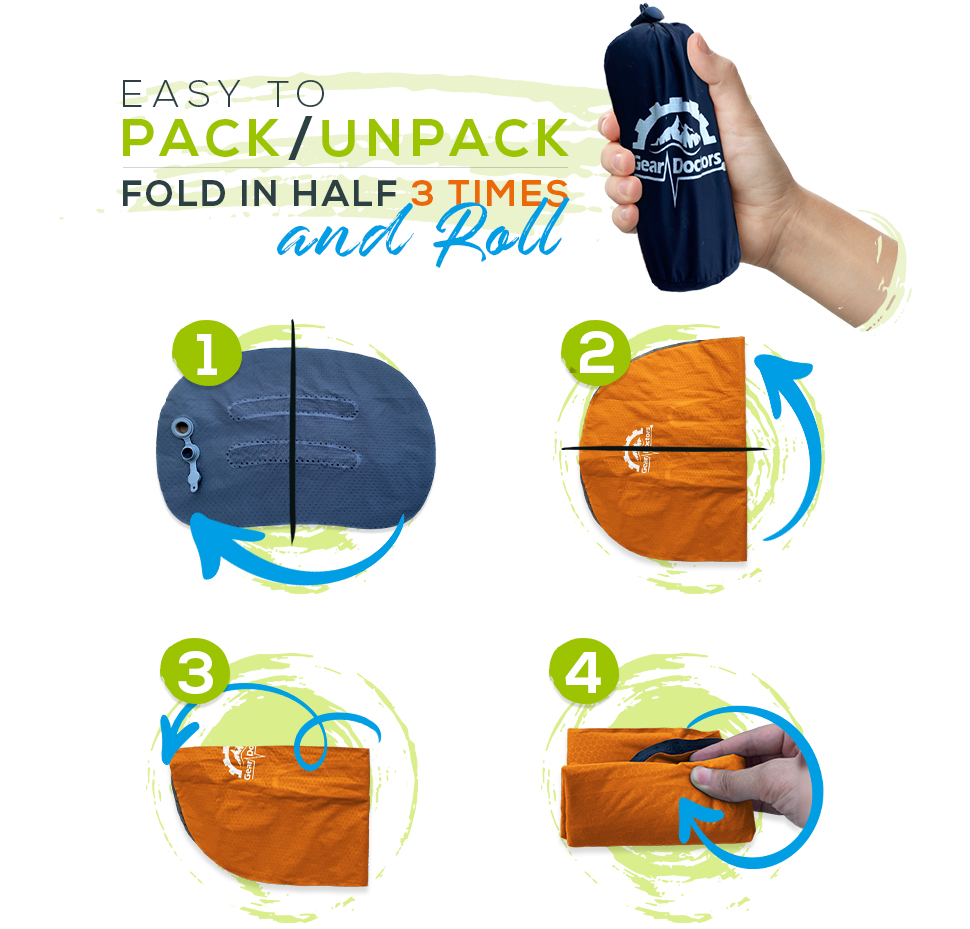 Gear Doctors Self Inflating Sleeping Pad + Ultralight Anti-Slip Camping Pillow Duo
All orders will be shipped within 24 to 48 hours of you placing the order using DHL eCommerce, USPS or ePacket
and fastest available service fulfilled by Amazon FBA.
Typical delivery time frame is between 7 to10 business days, however, you may receive your items much earlier.
All orders are shipped with a tracking number so you can track it every step of the way!
Packages may be faced with delays beyond our control such as customs or postal delays.