"As a professional wildlife photographer, I do a LOT of camping! Not only is this air mattress truly lightweight, it is also so small. I can put this ANYWHERE"

— 

Tjwaller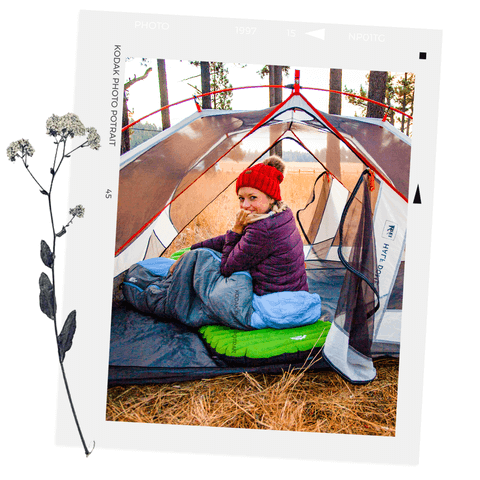 Sleeping in the outdoors can be challenging, You might think after a long day of hiking carrying your backpack You'd expect to fall asleep under any condition, Yet it's not always the case.
Choosing the right sleeping pad is critical for 

warmth 

and 

comfort

, so you have a great night sleep starting the next day fully charged and ready for a new adventure 

So here's how you need your sleeping pad to be:
• Lightweight by the end of the day the lighter your backpack the happier you'll be
•

Thickness
•

Insulation
•

Noise
•

Ease of use and maintain
•

Durability
And this is what we had in mind when we made Gear Doctors ApolloAir Sleeping Pad!
𝐒𝐢𝐳𝐞 𝐨𝐟 𝐚 𝐖𝐚𝐭𝐞𝐫 𝐛𝐨𝐭𝐭𝐥𝐞 𝐘𝐞𝐭 𝐁𝐢𝐠 𝐨𝐧 𝐂𝐨𝐦𝐟𝐨𝐫𝐭
Packs small with [8.5" height] and [3" diameter],
When inflated it goes as large as
72

" [23" widest/19" narrowest],
And [3.2" thickness], Weighting only 17 Oz!

While the large Packs small with [9.8"/25 cm height] and [4"/10 cm diameter],
When inflated it goes as large as [82.7"/210 cm]×[26.4"/67 cm],
And [4"/10 cm thickness], Weighting only 25.4 Oz/720g!
𝐖𝐚𝐭𝐞𝐫 𝐑𝐞𝐬𝐢𝐬𝐭𝐚𝐧𝐭 𝐔𝐥𝐭𝐫𝐚𝐥𝐢𝐠𝐡𝐭 𝐘𝐞𝐭 𝐔𝐥𝐭𝐫𝐚 𝐬𝐭𝐫𝐨𝐧𝐠
Our Water-Resistant Hexagon Shield 40D Nylon Fabric with E-LAST coating makes the ApolloAir 2.5 times stronger than current market standards without sacrificing the weight, which makes it perfect for any outdoor environment!
𝐒𝐢𝐥𝐞𝐧𝐭 𝐄𝐫𝐠𝐨𝐧𝐨𝐦𝐢𝐜 𝐃𝐞𝐬𝐢𝐠𝐧 𝐖𝐢𝐭𝐡 𝟓.𝟐 𝐑-𝐕𝐚𝐥𝐮𝐞
The [3.2" horizontal] [4" *Large*] insulating air chambers will effectively distribute your weight on the sleeping pad while preventing the ground from sucking the heat out of your body, which makes the ApolloAir camping pad suitable for all 4 seasons!
𝐋𝐮𝐧𝐠𝐬 𝐅𝐫𝐞𝐞 𝐈𝐧𝐟𝐥𝐚𝐭𝐢𝐨𝐧 𝐰𝐢𝐭𝐡 𝐪𝐮𝐢𝐜𝐤 𝐀𝐝𝐣𝐮𝐬𝐭𝐚𝐛𝐥𝐞 𝐏𝐫𝐞𝐬𝐬𝐮𝐫𝐞
With the provided Pump-sack it'll require only 5 minutes to be ready!
The 4 Steps Anti-Leak Valve System,

[Inflate > Adjust > Seal > Deflate] 
Hence the name I>A>S>D.


To store

: after deflation, vertically trifold it then roll towards the valve direction and it'll fit perfectly into the carry pouch,
The Pump-sack can also be used as a dry bag, camp shower, or for water storage!
𝐀𝐥𝐰𝐚𝐲𝐬 𝐭𝐨𝐠𝐞𝐭𝐡𝐞𝐫 𝐨𝐧 𝐭𝐡𝐞 𝐉𝐨𝐮𝐫𝐧𝐞𝐲
Our mission is to make sure your outdoor experience is an enjoyable adventure, so we use the best quality materials, test every single unit before we ship it out, provide a detailed user manual, repair kit, and we provide a
Hassle-Free Lifetime Replacement

 (No Need To Return)!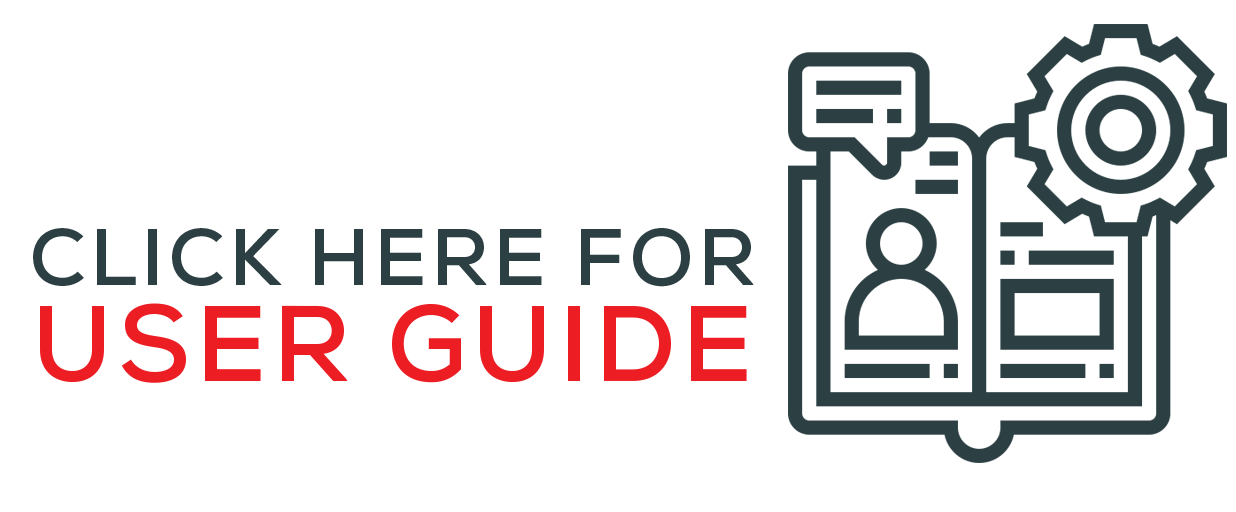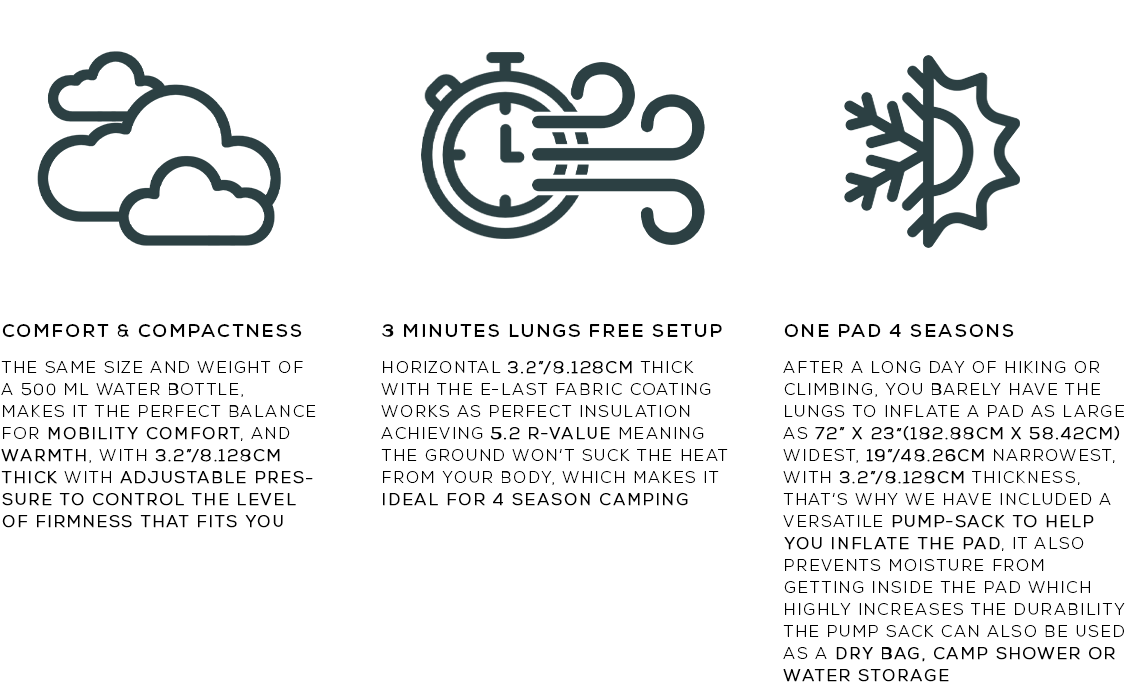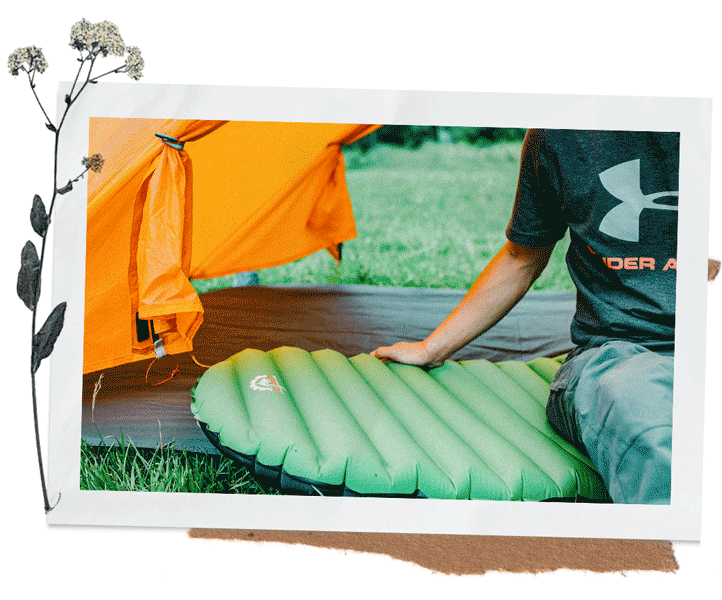 How is it for side sleeping?
Our ApolloAir Ultralight Camping Pad work perfectly for side sleepers as well as back and stomach sleepers, it won't make you feel the ground beneath you even if you are sleeping on a rocky/solid ground,
Give it a chance and it won't fail you
How do you clean it?
Simply make sure your pad is dry and use a damp towel to clean, and wait to dry completely then you can unfold and store.
Can the air pressure be adjusted?
Yes! the Valve on the ApolloAir And Camping Pillow has 2 airports, One that lets air in/out and One only lets air only in, With a needle to let the air out for adjusting air pressure however you like.
Is it waterproof?
Yes, Our ApolloAir is made of Nylon TPU which is water-resistant
Can it be used for floating?
It can't be used as a floating device as it's not U.S Coast Guard Approved
What happens at freezing temp with it?
This pad has a 5.2 R-Value which is rated for roughly -3 degrees F and -19 C
I'm not sure I have the repair kit!
The repair kit is quite small you will find the patch with instructions on it in a plastic bag
What is the weight limit on the pad?
The weight limit of the pad is 300lbs
Is it patchable if it gets a hole in it?
Sure it is, The Sleeping pad comes with repair kits it's very easy to use super intuitive all you need to do is to follow the instructions on the repair kits
What is the volume of the pump sack?
The Pumpsack's volume is 35 Liters / 9.3 Gallons


Gear Doctors ApolloAir Ultralight Inflatable Camping pad
All orders will be shipped within 24 to 48 hours of you placing the order using DHL eCommerce, USPS or ePacket
and fastest available service fulfilled by Amazon FBA.
Typical delivery time frame is between 7 to10 business days, however, you may receive your items much earlier.
All orders are shipped with a tracking number so you can track it every step of the way!
Packages may be faced with delays beyond our control such as customs or postal delays.